The IP (International Protection Rating or Ingress Protection Rating) rating is used to define levels of sealing effectiveness of electrical enclosures against intrusion from foreign bodies and moisture.
On our website, you can find IP ratings in the technical data table on product pages, particularly ones designed for use outdoors (flood lights, spot lights etc) or in moist conditions (downlights, strip light etc).
The code consists of the letters IP followed by two digits.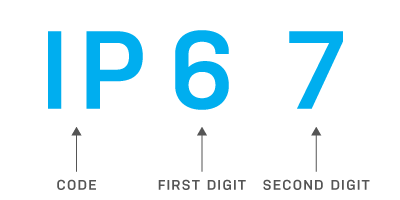 First Digit:

Level

Object/Size

Effective Against

0
-

 No protection against contact and ingress of objects

1

>50mm

Any large surface of the body, such as the back of a hand, but no protection against deliberate contact with a body part

2

>12.5mm

Fingers or similar objects

3

>2.5mm

Tools, thick wires, etc.

4

>1mm

Most wires, screws, etc.

5

Dust protected

Ingress of dust must not interfere with the operation of the equipment; complete protection against contact

6

Dust tight

Complete protection against contact and dust
Second Digit:

Level

Object/Size

Effective Against

0
Not protected
-
1
Dripping water
Dripping water (vertically falling drops) shall have no harmful effect
2

Dripping water

when tilted up to 15°

Vertically dripping water shall have no harmful effect when the enclosure is tilted at an angle up to 15° from its normal position
3
Spraying water
Water falling as a spray at any angle up to 60° from the vertical shall have no harmful effect
4
Splashing water
Water splashing against the enclosure from any direction shall have no harmful effect
5
Water jets
Water projected by a nozzle against enclosure from any direction shall have no harmful effects
6
Powerful water jets
Water projected in powerful jets against the enclosure from any direction shall have no harmful effects
7
Immersion up to 1m
Ingress of water shall not be harmful when the enclosure is immersed in water under defined conditions (up to 1m)
8
Immersion beyond 1m
The equipment is suitable for continuous immersion in water under conditions which shall be specified by the manufacturer